FOLDING TUBS, CROSSING TUBS AND CONTAINERS
The preventive measures prescribed by law to protect against contamination by escaping hazardous substances require, among other things, suitable containment facilities. Our mobile spill trays, folding trays and fixed containers are particularly suitable for short-term or flexible securing measures, as decon trays, on construction sites or for securing leaks on machines, trucks or tanks. Difficult site conditions often require special designs, which we can implement at short notice and individually, taking strict account of industry-specific requirements and legal stipulations. As a specialist for environmental protection equipment, we also offer systems for the proper collection and disposal of damaged liquids.
Please also note the resistance of our material and the legal requirements of the Federal Institute for Occupational Safety and Health "Technical Rules for the Storage of Hazardous Substances in Portable Containers (TRGS 510)".
TECHNICAL ADVICE & CUSTOMER SERVICE
Haben Sie Fragen zu unseren Produkten? We will be happy to help you! Just give us a call or fill out our contact form – we will get back to you as soon as possible.
We look forward to seeing you!
Catch basins and containers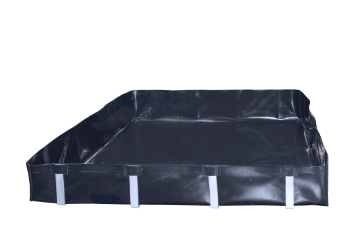 Mobile drip tray/ folding tray with aluminium brackets
Flexible, easy and safe to handle thanks to quick-insert aluminium brackets. Particularly suitable for fast and mobile use due to the low storage capacity. Absolutely hard-wearing and durable.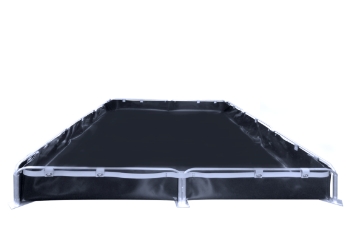 Mobile collection tray with stirrup system
The plug-in system is easy to install and offers a high degree of stability even with large sizes. Thanks to quick-opening loop fasteners, driving over is possible without any problems. Highly durable and hard-wearing.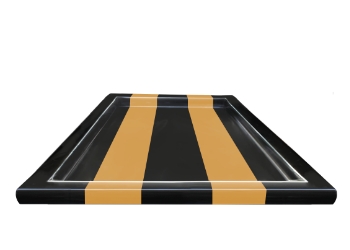 Mobile drip tray with foam insertion beam
Highly durable tarpaulin with flexible, sturdy polyethylene insertion beams that allow it to be driven over. Thus ideal as a disinfection or decon bath for animal epidemics or for the safe loading and unloading of substances hazardous to water.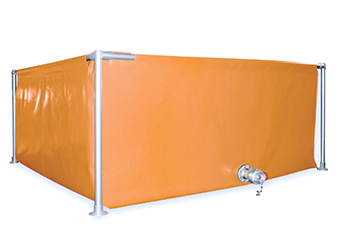 For the safe collection or storage of larger quantities of liquid, the robust scaffold containers are suitable. The design and size offer flexibility, durability and maximum stability.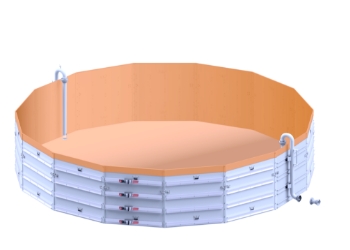 Rapid deployment container
Stable and safe as a retention basin for fire-fighting water or larger quantities of contaminated liquids. Capacity up to 200,000 l possible.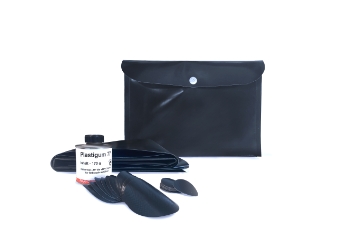 We carry numerous accessories and extensions, such as underlay mats, inlets and outlets, as well as repair kits.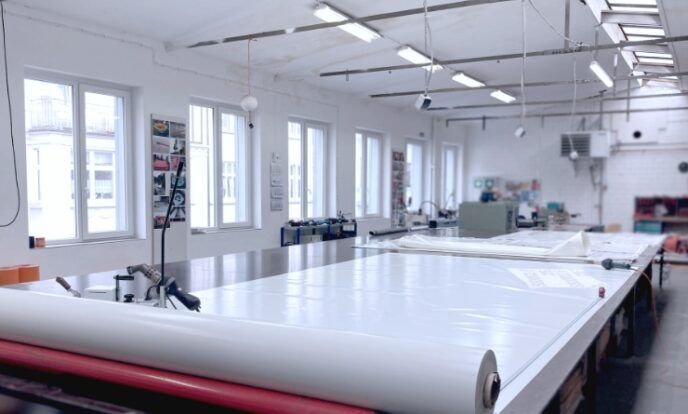 In our specialist company in Iserlohn, we manufacture made to measure for you! Our many years of experience in the high-quality processing of hard-wearing tarpaulins make us a proven and sought-after partner for industry and disaster control. From the smallest size to a huge catch basin, we design the right solution.
Our tarpaulins are made of highly durable carrier fabric with Panama weave, coated on both sides with vinyl. Depending on the resistance requirements, we use different types of polyester, such as PVC, PU or PUR. Our materials are normal or flame-retardant (B1), absolutely joint-tight in processing due to double-welded seams (HF = high frequency) and thus meet the specifications of the restraint systems for the storage of hazardous substances in portable containers. (TRGS 510)
Our tarpaulins are extremely durable and highly hard-wearing and can be used several times after short-term use and proper cleaning.