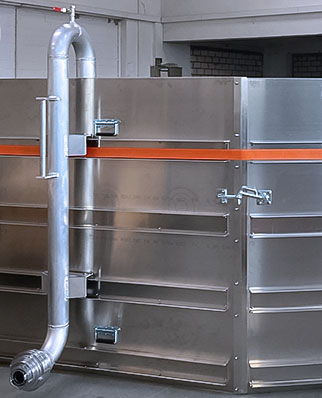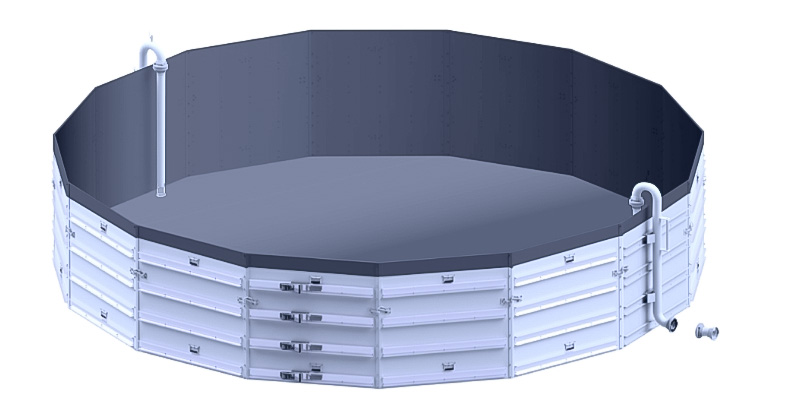 Rapid deployment container
As catch basin, interim storage, retention basin
For extinguishing water, waste water, contaminated liquids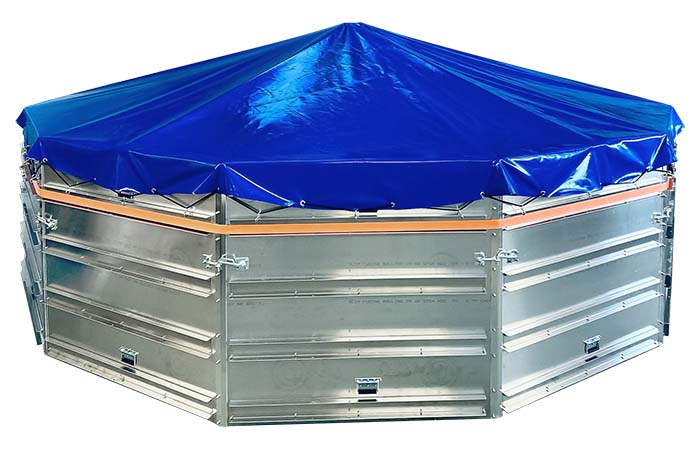 Roof attachment for rapid deployment containers
The mobile rapid deployment container from Roßbach consists of individual movable wall elements that can be easily and quickly connected to each other. With a height of 1500 mm, the storage volume is determined by the number of side panels used. For a 30,000 litre pool, 12 segments are installed. The diameter for this size is 5800 mm.
The adapted inner tarpaulin can be simply hooked in and fixed in a few simple steps. This extremely stable and safe design thus offers the possibility of large storage volumes of up to 50,000 litres.
Thanks to the quick assembly, this construction has proven itself especially in disaster control as a catch basin or interim storage for secured harmful liquids or as a retention basin for fire-fighting water.
MATERIAL
Als Standard verwenden wir 900 g/m² starkes, beidseitig vinylbeschichtetes Polyester mit Panama-Bindung. This material is resistant to most common industrial chemicals and is flame retardant (B1). The seams are double and high frequency welded.
We offer other materials for special resistance requirements. We are also happy to adapt the size, design, colour or grammage to your requirements and wishes.
PROCEDURE
We offer various drains and valves for draining or collecting the damaged liquids, as well as corresponding pump systems and separators for proper treatment.
Side wall elements (number varies depending on socket volume)
1 inner tarpaulin with packing bag
1 Floor underlay tarpaulin
3 circumferential tensioning straps 500 daN tensile force with packing bag
2 filling and tapping pipes DN100 with Storz couplings, ball valve venting
1 entry and exit ladder
1 repair kit
Quick assembly
Easy to clean
Extremely stable construction
Size + material + colour freely selectable
Rapid deployment container
DIMENSION
Individual
SIDEWALL ELEMENT
DIMENSION
1500 x 1500 x 40 mm
WEIGHT
30 kg
MATERIAL
Aluminum
TARPAULIN
RESISTANCE
Against most industrial chemicals (or on request)
DRIVEABLE
no
MATERIAL
900g/m² polyester coated on both sides with vinyl (or on request)
Crack resistance according to din 53354
Chain 420 daN/ 5 cm
Weft 400 daN/ 5 cm
Also available as conductive version!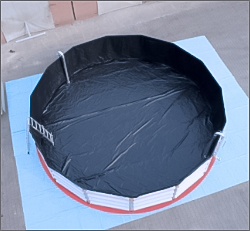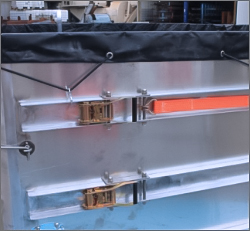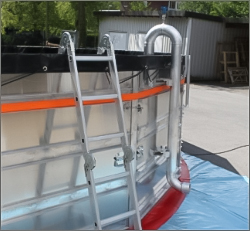 All our products can be fully customised to your requirements and wishes.

Depending on the required resistance and area of application, we have a large selection of different materials, thicknesses and colours!

Whether extensions, fixings, drains or underlay mats, we stock almost every accessory.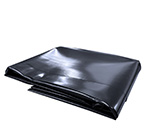 Underlay tarpaulin
As protection against damage from below. Available in different thicknesses and sizes.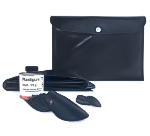 REPAIR SET
Consisting of 1 m² PVC tarpaulin, 10 PVC patches each Ø 80 mm and Ø 40 mm, 1 PVC adhesive Plastigum 77, 170 g, incl. Bag.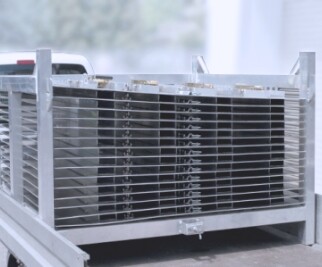 The individual partition wall segments of the rapid deployment container can be easily disassembled and inserted into metal boxes provided for this purpose. With external dimensions of 1600 x 1600 x 1000 mm, up to 15 individual segments can be compactly stowed. Transportable with a pallet truck, the boxes are ideally placed on the equipment trailer, in the rescue vehicle or as a complete solution within a roll-off container, e.g. for emergency response.