Flood protection
Mobile immediate protection for
House and property!
The cheap and effective solution for heavy rain:
this is how you protect your house against sudden water masses!
Climate changes are noticeable everywhere: sharp shifts in the weather often lead to uncontrollable extremes. Prolonged drought is followed by large amounts of rain. The dry soils cannot absorb the sudden amounts of water fast enough and thus lead – as on sealed surfaces – to a superficial accumulation of water and forming streams. If the sewage systems are overloaded, they often become a problem themselves instead of a solution: high levels can no longer absorb water and push excess water through gullies and drains to the surface.
Lower-lying houses, driveways and garages are particularly at risk.
How can homeowners protect themselves from the consequences of heavy rain?
The first thing to do is to identify the weak points of the house or property and take precautions to be able to react quickly in case of an emergency. Thus, a slope to the house, ground-level entrances and basements with windows are particularly at risk. If structural measures are not possible or too costly, mobile dikes that divert the water can help. The principle is as simple as it is reliable: In the event of sudden water masses, such as heavy rain or leaks, flood protection barriers can be quickly filled with water at the point of use and divert or divert liquids. The advantage over sandbags is that the filling process takes only a few minutes and the material flexibly adapts and seals even to uneven substrates. Unfilled, the hoses can be stored in a space-saving way and used several times.
In large diameters and lengths, this principle is already used in disaster control by fire brigades or THW. For private use, smaller versions are often sufficient to prevent damage to the house and property.
For the protection of house entrances, garage entrances or shafts
Prevents basement flooding
Ready for use in a few minutes
Discharging PLUMBING WATER FLOWS
Adapts flexibly to substrates
Can be filled with the water hose
Inexpensive, space-saving and
reusable
The water barrier is ideal for the quick and flexible application of suddenly occurring water masses and safely drains them away. When filled with the water hose, the extremely robust material also adapts to uneven surfaces and thus protects against serious water damage to buildings and properties. The water barrier can be easily installed by one person within a few minutes and can be easily stowed away again after use to save space.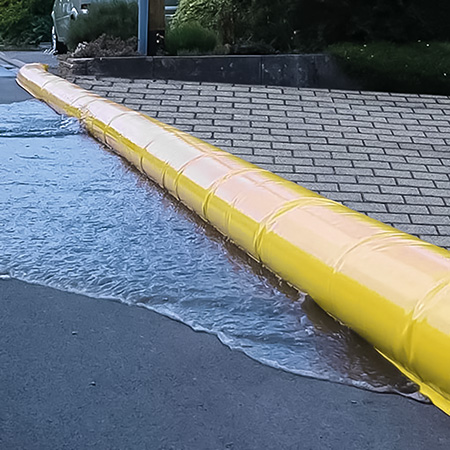 Securely cover gully and drains
Gullies and water drains in the basement area are extremely vulnerable to water pushing up if so-called backwater flaps are missing or defective in the drainage system. The canal cover filled with water is a pyramid-shaped and self-erecting or stabilising vessel. The flexible and robust tarpaulin fabric hugs the ground ideally and seals hermetically due to the static water column. Water ingress can thus be prevented.
Prevents
water from entering drains