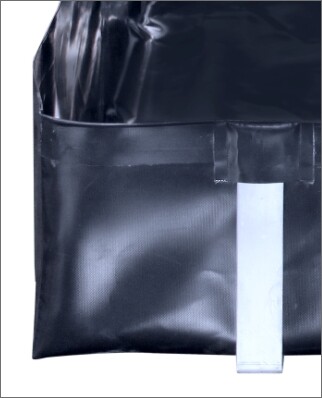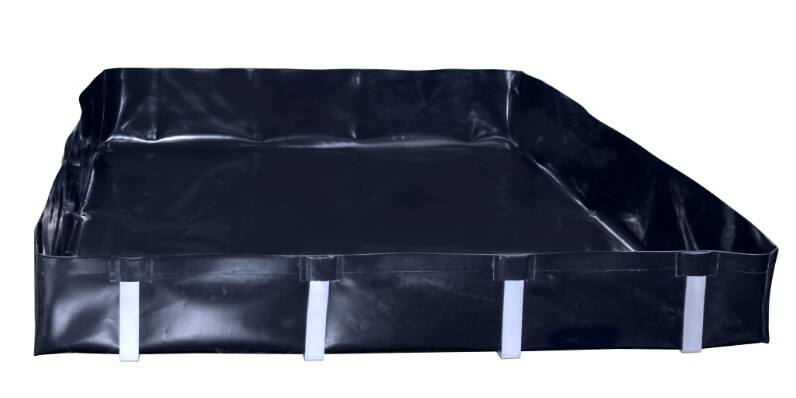 Mobile drip tray with aluminium brackets
Retention device of transportable containers
Thanks to the quick and easy installation and the small storage volume, the mobile collection tray with insertable aluminium brackets is ideal for mobile and short-term use, for example as a restraint device for mobile containers or in the event of sudden leaks.
The aluminium insertion brackets can be securely mounted without tools and lead to high lateral stability even with large sizes. For driving on, the brackets can be removed for a short time and then reinserted. To protect the material in the long term, we recommend the use of special underlay mats. The easy cleaning allows multiple use.
As standard we use 900 g/m² strong polyester, vinyl coated on both sides with Panama binding. This material is resistant to most common industrial chemicals and is flame retardant (B1).
We offer other materials for special resistance requirements. We are also happy to adapt the size, design, colour or grammage to your requirements and wishes.
Low storage volume
Driveable
Easy to clean
Stable side walls
Size + material + colour freely selectable
Collecting tray with aluminium brackets
WIDTH
Individual
LENGTH
Individual
HEIGHT
100/ 150/ 200/ 250 or 300 mm
SIDE EDGE
Aluminium angle all around
RESISTANCE
Against most industrial chemicals (or on request)
DRIVEABLE
yes
MATERIAL
900g/m² polyester coated on both sides with vinyl (or on request)
Crack resistance according to din 53354
Chain 420 daN/ 5 cm
Weft 400 daN/ 5 cm
Also available as conductive version!

All our products can be fully customised to your requirements and wishes.

Depending on the required resistance and area of application, we have a large selection of different materials, thicknesses and colours!

Whether extensions, fixings, drains or underlay mats, we stock almost every accessory.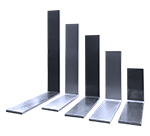 ANGLE
Available in various designs and sizes. Aluminium, stainless steel or brass.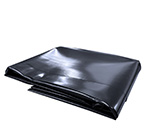 Underlay tarpaulin
As protection against damage from below. Available in different thicknesses and sizes.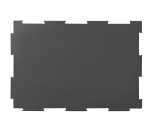 Shim plate
Vario puzzle tile made of solid PVC, 1125 x 750 mm, thickness 12 mm, accessible by truck and forklift.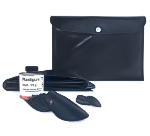 REPAIR SET
Consisting of 1 m² PVC tarpaulin, 10 PVC patches each Ø 80 mm and Ø 40 mm, 1 PVC adhesive Plastigum 77, 170 g, incl. Bag.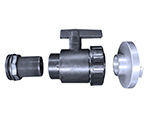 Drain set
Available in many different designs and sizes.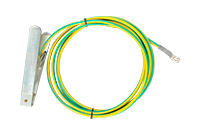 Earth cable
Green-yellow, 2 or 3 m length, with ground clamp and eyelet.